Centrica Business Solutions and McClure win Industry-Leading Awards Recognizing Outstanding Projects through Performance Contracting
Washington, D.C., November 17th, 2023 - The National Association of Energy Service Companies (NAESCO), the leading advocacy and accreditation association representing companies modernizing our nation's building infrastructure through energy efficiency projects, has announced Centrica Business Solutions as the winner of the 2023 Historic Community Impact Award and McClure in partnership with Lighting Services as the winner of the 2023 NAESCO Member Award. The awards were given during the NAESCO 2023 Annual Meeting, R3 Conference and Innovation Expo in New Orleans, which took place November 6th-8th, 2023.
NAESCO presents annual awards to member companies to honor the achievements of exemplary projects that show the full potential of public-private partnerships. Efforts recognized by this award include significant or unique savings, innovative project approaches or technology uses, overcoming significant project obstacles, achieving environmental justice goals, and incorporating community development and outreach, among others.
2023 Historic Community Impact Award
Centrica Business Solutions provided a turn-key solution to achieve Coles County's long-sought historic restoration of the Courthouse's exterior. They replaced 380 windows in an 1898 building where every window required precision measurements and custom design. It transformed an icon in Coles County, Illinois, into a picture of its former glory. Centrica also played a crucial role in securing funds through the American Rescue Plan Act to advance the project.
2023 Member Award
McClure saved $95 million for the taxpayers of Pennsylvania by installing a broad range of measures that have improved recreational, educational, legislative, and infrastructure across the state of Pennsylvania. McClure was recognized for its long-standing partnership with the Commonwealth of Pennsylvania for numerous projects over the years in their Guaranteed Energy Savings Act program. NAESCO affiliate Lighting Services was a key partner to McClure in these project executions.
About The National Association of Energy Service Companies (NAESCO)
The National Association of Energy Service Companies (NAESCO) is the leading advocacy and accreditation organization for Energy Service Companies (ESCOs) and is dedicated to modernizing America's building infrastructure. NAESCO unites the energy service industry by promoting favorable government policies, sponsoring a rigorous accreditation program, and providing professional training and education. NAESCO champions the interests of ESCOs across the nation.
Learn more about NAESCO, its members, membership benefits and accreditation process at www.naesco.org, and follow NAESCO on Twitter (@NaescoNews) and LinkedIn (@naesco).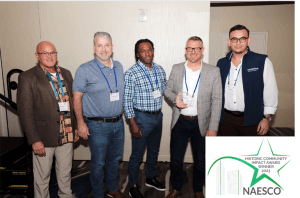 Timothy Unruh, Executive Director of NAESCO with Centrica Business Solutions Team (Pictured Left to Right: Timothy Unruh, John Ferguson, Ricardo Clemens, David Jurek, Carlos Vacas)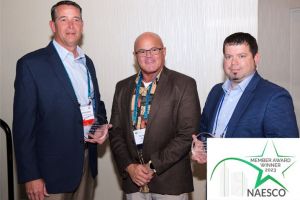 Timothy Unruh, Executive Director of NAESCO with Lighting Services & McClure Team (Pictured Left to Right: Matthey Saboy, Timothy Unruh, Chris Stultz)